Hank Cochran Estate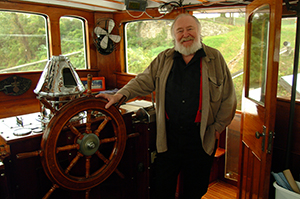 "I have to thank the good Lord for sending me all these songs. I'm just the pen; he's the writer." - Hank Cochran
Hank Cochran could have claimed bragging rights for his countless contributions to the world of Country music, but the elder statesman of song was one of the most humble men ever to walk the streets of Music Row. Hank arrived in Nashville in 1960, signed as a staff writer with Pamper Music for $50 a week – and his first #1 came in April 1961 when Patsy Cline took his (and Harlan Howard's) "I Fall to Pieces" to the top of the charts. Hit after hit followed, and Cochran cemented his legendary status in 1967 when he joined the industry's best in the Country Music Foundation's Walkway of Stars. In a singular feat in 1974, Hank was the sole nominee - and subsequent inductee - into the Nashville Songwriters Hall of Fame.
During his long career, Cochran received over 40 B.M.I. awards (in both the Pop and Country categories) for his songs. In 2003, three of his compositions ("I Fall To Pieces," "The Chair," "Make The World Go Away") were included in CMT's "100 Greatest Songs of Country Music" list, and Hank was inducted into the Mississippi Musicians Hall of Fame. Just a few of the artists who've recorded Hank's tunes includes: Lynn Anderson, Eddy Arnold, Chet Atkins, Junior Brown, Jimmy Buffett, Tracy Byrd, Johnny Cash, Elvis Costello, Bing Crosby, Don Gibson, Vern Gosdin, Ty Herndon, Merle Haggard, Emmylou Harris, Joe Henry, Burl Ives, Etta James, Waylon Jennings, Tom Jones, Loretta Lynn, Dean Martin, Reba McEntire, Wayne Newton, Buck Owens, Cat Power, Elvis Presley, Ray Price, LeAnn Rimes, Linda Ronstadt, Nancy Sinatra, George Strait, Carla Thomas, Ernest Tubb, Lee Ann Womack and many others.
In 2005, Hank's "I'm A Long Way From Home" was featured in the film, I WALK THE LINE, and Martina McBride recorded his classic "Make The World Go Away" for her million-selling album, TIMELESS. In 2007, Hank was honored as the first songwriter to perform in the Country Music Hall of Fame® and Museum's POETS And PROPHETS songwriter series. In 2012, acclaimed singer/songwriter Jamey Johnson released LIVIN' FOR A SONG: A TRIBUTE TO HANK COCHRAN (Mercury Nashville). The 16-track disc featured collaborations with Willie Nelson, George Strait, Emmylou Harris, Merle Haggard and other luminaries on Cochran classics.
As a recording artist, Hank first found fame in the 1950s when he and Eddie Cochran (no relation) formed the rockabilly duo, The Cochran Brothers, which opened for Elvis Presley and others. And, while his focus has always been on songwriting, Hank topped the Americana Music chart in 1997 with DESPERATE MEN: THE LEGEND AND THE OUTLAW. In 2002 Cochran released his last CD, LIVIN' FOR A SONG: A SONGWRITER'S AUTOBIOGRAPHY, to much critical acclaim. The disc's title track was featured on Johnson's 2012 tribute CD, with additional vocals by Willie, Merle and Kris Kristofferson.
From a troubled, post-Depression childhood in tiny Isola, Mississippi to a Memphis orphanage and on to the roughneck world of the Oklahoma oil fields, Garland Perry "Hank" Cochran learned hardship. Tenacity was his benchmark; humility his calling card. For Hank, music became a unique and universal language of heartache and hope, loss and love. Husband, father and friend, Hank Cochran leaves a legacy which lives on through a life well-lived and a thousand stories told.
Micki Foster-Koenig March 28, 2014