American Blonde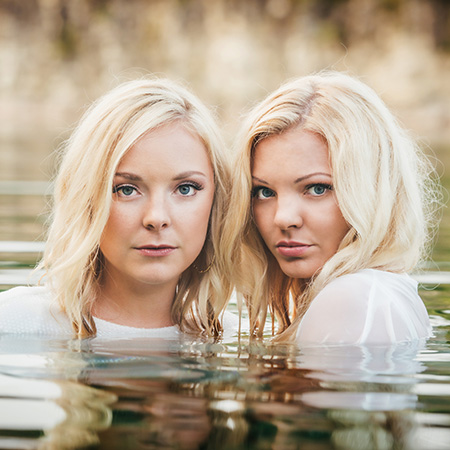 From childhood to adulthood, from trio to duo; from being Southern Halo to becoming American Blonde, the Morris sisters have stuck together through thick and thin. With the rebranding, they are casting off any preconceived notions as to who they should be and are fully embracing who they are - a powerhouse of talent; invigorated, motivated and fully realized. There were several catalysts behind this transformation, but the process was jump-started when Hannah, the youngest, decided to leave the then-trio to return to formal studies. After months of soul-searching and reflection, the two knew their best path forward lay in their shared past. Their truest love was for the raw, edgier sounds of their musical roots - and it was calling them home.

Their new music is earthier, less pop and more true to who they've become. Dueling guitars meet dueling vocals, while the pulse and hum of the Delta can be heard throughout. It's wonderful, it's vibrant and it's bridging the divide between Country and Southern Rock. The trio landed three Top 25 hits on the MusicRow Chart with "Anything Is Possible," "I Think Too Much" and "Don't Let Another Day Go By." They toured throughout the U.S. and the U.K., sharing the stage with acts ranging from Maren Morris to Dionne Warwick. They mark their debut as American Blonde, with the steamy, wildcat abandon found in the voodoo-beat, bad-boy draw of "Somethin' In The Water." The future awaits – and the possibilities are endless.
Current track: "Somethin' In The Water"